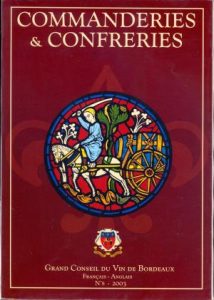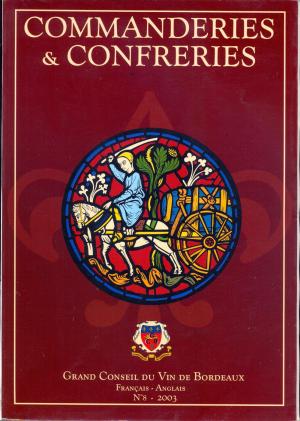 Roland Daraspe is a goldsmith/silversmith artist who lives and works in Macau, in the Medoc region where he creates objects that are sold all over the world.
 Even though his reputation had been firmly established for many years, official honours took a long time coming and it was only within a small circle of initiates who greatly appreciated the quality of his work that he was acknowledged. Roland Daraspe was not » especially seeking recognition, but when the postman arrived with a letter from the Ministry of Culture announcing that he had been elevated to the rank of Master of Arts, he was of course profoundly moved by this honour and knew deep down that he justly deserved the title. This distinction of Master of Arts was created in 1994 to give support to art professions. It rewards the best arts craftspeople and artists selected by the Conseil des metiers d'art and the Delegation aux arts plastiques at the I Ministry of Culture. This honour is awarded sparingly so as not to deteriorate its fine reputation. Over the past nine years, in all sectors of art, only fifty six arts craftspeople, and only two goldsmiths/silversmiths, have been distinguished. On November 25th 2002, Roland Daraspe went to Paris to receive his award, which represents a formal token of recognition from his peers for the superiority of his works. It was presented personally by the Minister of Culture, Jean-Jacques Aillagon. He has now returned to Macau, a large market town in the Medoc region, where he lives with his family. Their home is close to the estuary, surrounded by vines and although it is situated in an area liable to flooding, the Darapse family doesn't seem to worry, because they have found a haven of tranquillity which enables the artist to work at his own pace in the workshop he set up on the ground floor of the house.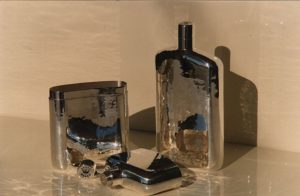 In the beginning, nothing predisposed young Roland to become an artist. In 1968, he passed his CAP (vocational training certificate) to become a boilermaker and this gave him the opportunity of gaining knowledge about techniques for working with metals. Three years later, he progressed further by taking a diploma to become an aeronautics mechanic. His work was becoming more technical and the metals he worked'with were more demanding, but the young man was not quite mature enough to embark upon an arts and crafts career. Spurred by the necessity of earning a living, he became a sales representative for a publishing firm and this job took him all over France. In 1974, he realised that he missed  » working with materials and his taste for « beautiful. works » urged him to leave his career in publishing and become a stained-glass window maker with a master who taught him this profession. Four years later, Roland Daraspe had made up his mind : he settled in Macau and opted definitively for the most difficult sphere of metalwork : artistic goldsmith/silversmith creations. To start with, the young artist produced simple items, mainly personal objects that could be kept in a handbag or carried about : pill boxes, cigarette holders, cigar boxes, small dishes for tidying away pocket contents, etc. Gradually, his workshop became filled with weird and wonderful equipment : a double-tipped anvil, blowlamps, shears, buffing wheels, guillotines, anvils, cyclonic vacuum cleaners, etc. Only authorised people are allowed to enter this den and to the philistine it seems to be in a thoroughly higgledy-piggledy state. But Roland Daraspe, as always sporting his leather apron, has this matrix universe totally under control and it is in this workshop that he creates his unique pieces for connoisseurs.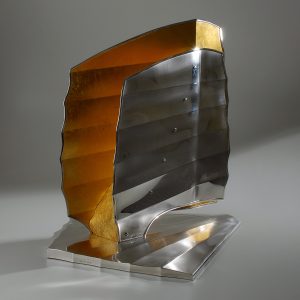 During the first year he set up his workshop in Macau, he presented his initial creations at the Salon des Ateliers d'Art in Paris. His success was immediate. Encouraged by this, Roland Daraspe launched himself into the production of increasingly ambitious works with a fascinating skill. Today, countless publications list his finest creations : museum catalogues, books paying tribute to the superiority of French creativity. His raw materials – gold, silver and silver gilt -are extremely expensive, so the artist cannot afford to make mistakes, but his movements are steady, so he can make the most daring creations, even though he keeps his lines so very pure. Roland Daraspe rapidly began to produce luxury table arts items for a very demanding type of clientele wholly unconcerned about how much things cost. Among his sensational creations are his caviar cooler with matching spoons in silver and silver gilt, his champagne bucket, dishes, liqueur glasses, tea and coffee services, sauce boats, fruit bowls, dishes, candelabras, etc… Roland Daraspe's name is mentioned in ministerial antechambers. When François Mitterand was President, he was one of the appointed suppliers of gifts for heads of State visiting France. The City Hall of Bordeaux has appointed him for this same purpose when prestigious visitors come to the region of Bordeaux. Both Queen Elizabeth II of England and Madeleine Albright were presented with a winetaster dish, a « taste-vin », created by Roland Darapse and for certain members of the Academie Française, he also produces ceremonial swords.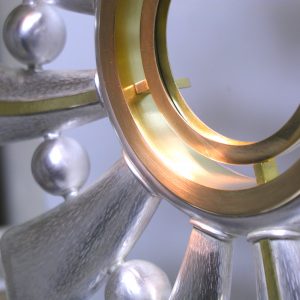 For many years now, Roland Daraspe has only produced his works on order, even, some of the most unusual : amongst his latest creations, we could mention an, enormous chandelier for a Medoc chateau, a funeral urn for a dog, a silver coating for the inside of an ostrich egg, the decoration of a coffee service with cameos and ebony, etc… Certain churches also place orders and from time to time he produces a ciborium or a tabernacle.
By reaching beyond the limits of the Bordeaux region, Roland Darapse's creations have charmed several luxury goods manufacturers, such as Daum the glass-maker and many specialised decoration shops. As well as his reputation in the business world, museums are also interested by his works. The Fonds National d'art contemporain and the museums of decorative arts in Bordeaux, Paris and Lyon all exhibit his works. The Louvre welcomes him to give conferences, with the hope that his skills will be carried on by others in the future. Roland Daraspe is aware of the fragility of his profession and the mission he still has to accomplish. With this in mind, he is currently training a student in the hope that he will be able to take over from him when the time comes and he is also keen to create other vocations of the same nature.
Celine Edwards- Vuillet In Commanderies & Confréries n° 8 – 2003